Keynote for 6000 at NAIS People of Color Conference- Anaheim
December 1, 2017 @ 9:15 A.M.

-

10:30 A.M.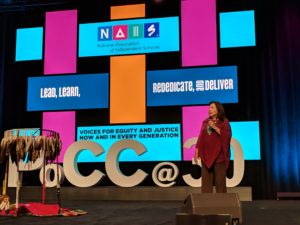 Anita  received a long, standing ovation after sharing The Four Sacred Gifts and treasures of indigenous wisdom for 6000 adminstrators, faculty and students at the 30th Annual People of Color Conference at the Anaheim Convention Center. In addition, 80 schools around the world live-streamed her keynote address.  Afterwards, several hundred of the audience lined up for Anita's signature on their copy of The Four Sacred Gifts: Indigenous Wisdom for Modern Times, with many heartfelt thanks for "a life-changing experience".
Share This Story, Choose Your Platform!